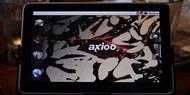 Digital Electronic
current article discusses the original notebook vendors Indonesia is
Axioo Pico Pad
. Although discussion of these products appear now, but actually has long existed in the 'bookcase'
Digital Electronic
.
The Tablet is made in Indonesia, based in Singapore is already 8 months and then finally arrived in the Indonesian market, and Digital Electronic will discuss more in this device.
Morphology Pico Pad
With a weight that is thick and materials in a for
Axioo Pico
is dominated
stainless steel
material so that it looks solid and
Pico Pad
makes this performance was strong.
At the top, there are volume buttons, microSD slot and SIM card slot neatly covered by a protective. The power button and the speakers are on the left and right. While in the bottom pinned miniUSB slot which is adjacent to the headset port.
On the whole, and the buttons are in a comfortable position to make
Pico Pad
convenient to use.
Features Axioo Pico Pad
The features on this gadget is quite reliable. There are a variety of applications that are quite helpful to users, such as office applications;
Documents to Go, Adobe Reader, Gmail, and Notepad
For users who like music, Pico Pad provides an easy-listening results and for more optimal Pico Pad equipped with cable and headset bluetooth headset.
Camera Pico Pad
The camera owned by pico pad there are two (dual camera). Primary and secondary camera. The primer camera is 3 MP resolution that produce images good enough although not able to ''fight'' the sun if used. Pico screen pad can not 'respond' to sunlight, the screen will appear dark.
Connectivity Axioo Pico Pad
Line connection is on Pico Pad is complete. These features exist in other gadgets already embedded in this gadget.
GPRS, EDGE, 3G, HSDPA, Wi-Fi and Bluetooth.
For Wi-Fi, this gadget has Wi-Fi support tethering.
For Internet network connection, Pico Pad relies Android on the browser default, the
Dolphin Browser
. To improve the ability of the browser, users can download the browser Dolphin HD. With this browser, users can open at the same site because the browser already supports multi-tab.
Browser Pico Pad also features a pinch to zoom is easy to read every article on a website and
Flash Player.
For the performance of the interior, Pico Pad work with Qualcomm MSM 7227 processor with 600MHz and memory capacity of 512 MB of internal ROM and 512 MB of RAM and an additional microSD external memory.
With a 7 inch screen,
Axioo
has the ability to glow a bright color indoors to outdoors but not sothe maximum when read in the sun.
Axioo's batteries in use are able to survive for 6 hours of talk time and 400 hours standby time because it already uses a lithium polymer battery with 3240mAh capacity.
For other articles on this blog, please read about
Samsung Series 9
.... thanks a lot.
Pico Pad
0
Read More