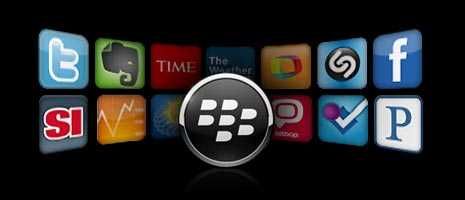 BlackBerry Playbook
touted as the iPad Killer which will enliven the competitive world of tablet PCs.
BlackBerry Playbook
is a Tablet PC or the latest gadget from RIM that comes with many exciting features and of course the gadget with the latest specification.
BlackBerry Playbook
has features like touch screen (Capacitive Touch Screen) 7 inch 1024 x 600 pixel resolution WSVGA, the processor uses Dual Core Processor 1 GHz, HDMI output, two cameras for video needs as well as Video Call Capture, memor 1GB RAM, 802.11 Wifi connection a / b / g / n, Bluetooth 2.1 + EDR.
BlackBerry Playbook
present as a competitor to the
Apple iPad
, which of course Blackberry Playbook has its advantages and features a screen to be considered.
The following specifications BlackBerry Playbook :
Design
A true stunner
*.7" LCD display
*.1024 x 600 screen resolution
*.4 finger multi-touch screen
*.Less than ½ inch thin (5.1''x 7.6'' x 0.4'')
*.Weighs under a pound (0.9 lbs)
Performance
*.Blazing speed, tremendous power
*.1 GHz dual-core processor
*.1 GB RAM
*.Symmetric multiprocessing
*.True simultaneous multitasking
Uncompromised web
Web without limits
*.Games, media and apps
*.All the rich content the real Internet has to offer
*.Full Adobe Flash 10.1 enabled
*.Built-in support for HTML 5
*.No-compromise rendering of text, graphics and video
Connectivity
Connect anytime, anywhere Wirelessly connect to your BlackBerry smartphone 1 for real time access to email, calendar, address book and task list with BlackBerry Bridge
BlackBerry PlayBook
tablets will offer support for high speed wide area networks as follows:
*.BlackBerry PlayBook with Wi-Fi 802.11 a/b/g/n (available now)
*.BlackBerry 4G PlayBook with Wi-Fi 802.11 a/b/g/n + WiMax
*.BlackBerry 4G PlayBook with Wi-Fi 802.11 a/b/g/n + LTE
*.BlackBerry 4G PlayBook with Wi-Fi 802.11 a/b/g/n + HSPA+
All BlackBerry PlayBook tablets support Bluetooth 2.1+EDR
Multimedia
Marvel at your media
*.3 MP 1080p HD forward-facing camera
*.5 MP 1080p HD rear-facing camera
*.Crystal clear video; H.264, MPEG4, WMV
*.Micro HDMI port for 1080p playback
*.Music Store by 7 Digital, BlackBerry Podcast app
Rich application ecosystem
Developer friendly
*.Rapid development environment
*.Reliable BlackBerry Tablet OS, powered by QNX technology
*.Supports POSIX OS, SMP, Open GL, WebKit, AdobeFlash and Adobe Mobile AIR
Operating System
A new breed of OS Technology from QNX software systems makes it allpossible with true multitasking and intuitive navigation.
Applications
Ultimate apps for the ultimate tablet
Discover a whole new world of powerful apps builtand optimized for the BlackBerry PlayBook tablet.
Plus run many of your favorite apps for BlackBerry smartphones and Android. All available in
BlackBerry App World.
Accesories
BlackBerry Convertible Case
*.Dual-purpose protective case and stand.
*.BlackBerry Journal Case
*.Sleek and functional genuine leather case.
*.BlackBerry Neoprene Sleeve
*.Light, ultra-portable protection.
*.BlackBerry Leather Sleeve
*.Distinctive style and exceptional protection.
*.BlackBerry Zip Sleeve
*.Made from light weight, durable neoprene.
For other articles on this blog, please read about
Axioo Pico Pad
.... thanks a lot.
Source: BlackBerry