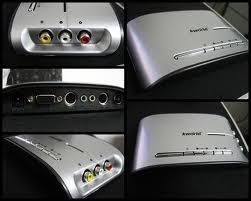 This unique object is an external TV tuner device, the TV box-shaped model. Function
Kworld External TV Tuner (SA233-1920Ex)
is used to enable your PC monitor as a TV, without the need to use the CPU.
Other enhancements are supported remote control with cersi USB stick, the more easily you in running this tool.
Systems that are planted in the K-World TV Tuner External (SA233-1920Ex) is PAL / NTSC / SECAM and 3.5 mm audio port allows you to enjoy your favorite music boom.
Specifications
- 15-Pin D-Sub Port
- S-Video Port
- Line In Audio Port
- Audio Line Out Port
- Coax Antenna Port
- 16:9 / 16:10 Aspec Ratio
- Built-in Speaker
Package contents
TV Tuner Box, REMOTE, CABLES
Price
$ 28.42
For other articles on this blog, please read about
AVerlife Cinema
.... thanks a lot.