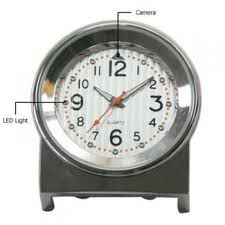 You like looking for things that hidding in your community? Like the search for hidden info?
There are 2 ways to do it all, namely:
1. Using the services of others, which of course would cost to this.
2. Do yourself, while you are busy with another job.
Confused?
Relax, I have a solution for your problem. Yes, a professional gadget, wily, working 24 hours without the need to pay for it,, what is it?
Desk Clock Spy Camera
With a unique shape, shaped clock that can be placed on the table, able to masquerade as a surveillance camera without someone who knows.
Desk Clock Spy Camera can be recording all activities indoors and outside. Where is the camera? This means there are surveillance cameras on top of number 12, and very vague ..
Hours spy has 4 GB internal memory and can also be used as a flash-disk, for data storage.
Specifications
Video compression:
AVI video format, 640 x 840 pixel
Dimensions
48 x 45 x 18 mm
Voice
rekording:
yes
Audio quality:
24-bit, 44.1 / 48k6z
Camera:
2 MP camera lens
Battery use time:
approximately 90 minutes, record teime up to 3 hours
Battery type:
lithium-ion
Adapter type:
USB adapter charging cable
Easy plug and play installation (no driver is required)
1 / 4 "TS guitar input, 1 / 8" TRS headphone output
For other articles on this blog, please read about
Dangerous Gadgets
.... thanks a lot.