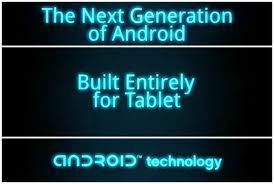 A few days ago, I had the opportunity to enjoy thefeatures of Android 3.0 from a friend. He was loaned to my
Motorola Xoom
, wow love it,,
After observing and browse the contents of
Android 3.0
, I gave a 9 ... Therefore, I try to discuss it here, please be listened to and hopefully make you interested to have it ...
Honeycom
b is the latest version of the Android platform (read: Android 3.0) that is optimized specifically for devices with larger screen sizes, especially tablets. Honeycomb introduced by Google is a new brand that have the User Interface or UI that actually virtual and holograms, as well as an elegant model of interaction. UI is once again brought new changes in the interaction, navigation, and customization of a fresh look and portable for all applications.
Android 3.0
has an advantage in multitasking, rich notification, customizable home screen, widgets, and supports 3D graphics effects are more subtle which makes this operating system more familiar and even better than previous versions.
In this
Honeycomb
, also has created graphics engine called Render Script. According to Google, this feature allows the acceleration for 2D and 3D graphics and animations and transitions on the increase in e-book page or scrolling a video on YouTube.
Notification And Action Bar Similar to other gadgets that provide a shortcut''''interfaces,
Honeycomb
else will too. However, given access to view Honeycomb more dynamic. On this operating system, a new notification notice will involve more data than withprevious versions of Android. For example, when we received an e-mail, then the notification of the delivery of the message will appear, without having to open the application. If you never use orinstall application on mobile phone TreadSms you, the way it works is similar to that.
Uniquely, the system owned by Android 3.0 bar it will disappear automatically if no application is running.
Customizable Home Screen There are five types of customizable home screen that will help users to access the operating system it quickly. We can choose and manipulate the widgets on the home screen (desktop), the application shortcut or launcher, and change the wallpaper using a visual layout mode.
Recent Apps With the multi-tasking on Android 3.0 system, then the system is capable of running multiple applications. Especially with the Recent applicationsin the bar system, the move from application to another will feel more comfortable and with the help of a snapshot that displays the last state that you see. If you ever had a mobile phone with multitasking system, then there is no difficulty in running the Android 3.0.
Connectivity Built-in Media or Picture Transfer Protocol
serves tosynchronize media files with a USB camera connected to a computer without the need to reject mass-storage USB device. While WiFi connectivity have been improved by using a new scan combo. For Bluetooth, we can share the Internet network connectivity with other Android devices because the system is used bluetooth tethering.
All you notice is,,, soon the Android 3.0 gadgets have this, because systems of work invested in thisOS is similar to a computer, complete.
For other articles on this blog, please read about
Blackberry Playbook
.... thanks a lot.