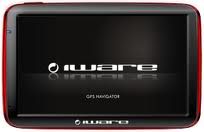 You are confused by the street in the city for the first time you visit and often get lost?
Iware GPS Navigator
gives you an easy solution to every trip, the tool is able to explore new places you've never visited.
Iware GPS Navigator
will be your faithfulguide to the various information. Your journey will be easier and faster. Iware designing GPS devices this by considering your needs.
Iware GPS
comes with a user friendly menu, current and interesting. Iware also equipped with a variety of games, video player andmusic player.
Specifications
* Equipped with Audio Video input 2.5mm jack, so get a LCD monitor for VCD / DVD player we
* Port: Mini USB
* Type: USB Mass Storage / ActiveSync Sound
Music:
* Internal Speaker: Yes
* External audio jack: 3.5mm
* Hot start: 1 ~ 2 seconds
* Cold Start: 40 ~ 60 seconds
Software Map:
* Support many navigation software
Video Support:
* Video Format: MP4, MPEG, WMV, ASF, DAT, AVI, DIVX, XVID, MOV, etc.
Battery:
* Internal battery capacity: 1250mAh (extended)
* Battery Type: Li-Ion Rechargeable
* Battery Life: 1 ~ 1.5 hours (running GPS)
OperatingSystem:
* OS: Windows CE 6 support Also:
* EBook: TXT files, PDF reader, PowerPoint viewer, Word files, Excel files
* Photo / Picture Viewer: JPEG, BMP, GIF, PNG
* Games: Several games included
Details of the product:
* Dimension: 135mm x 90mm x 12mm
* Body: Made from plastic, stainless steel frame
* Color: Black
Acessories Included:
* Stylus pen
* Car holder (foot hook for the car)
* AC Adapter (charger electric)
* DC Adapter (car charger / car charger)
* Earpieces / earphones
* USB cable (USB cable)
* DVD video tutorials
For other articles on this blog, please read about
Qualcomms Snapdragon Present at Windows
.... thanks a lot.