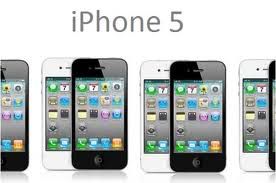 iPhone mobile phone 5 is the 5th generation of theiPhone is a revolutionary series of the most awaited for Apple fans.
iPhone 5, which will is being designed by the company Apple Inc. to meet the needs of communication and entertainment technology advances. Mungin size and phones to be thin does not differ much, but the improvement is focused on the completeness and speed of the iPhone fitus 5 is a refinement of predecessor generations, developed the evaluation of the previous generation iPhone.
As the successor generation iPhone, iPhone 5 in developed and marketed specifically for the needs of professional and business activities such as Video Call and other media consumption activities such as books, movies, music and internet access. Weaknesses that have been alleged will be evaluated and improved. As the problems faced by the iPhone 4 also been experienced by other smartphones because of weakness in the antenna. Although the iPhone is not the only smartphone that never in trouble with the antenna. The same was experienced by the RIM Blackberry products, Taiwanese companies with HTC products, and companies in South Korea with Samsung products.
IPhone 5 Specifications Simulation
Capasity Specifications: It may be increased to 64 GB
Display: No different from the generation equipment to be used Retina IPhone4 Display/3.5-inch (diagonal) widescreen
Multi-Touch display/Resolusi960 x 640 pixels, with 326 ppi / Contrast Ratio 800:1 / oleophobic fingerprint-resistant coating on the front and rear.
Supports multiple languages and characters simultaneously.
Camera, Photo, Video: Video recording HD (720p) up to 30 fps, 5MP camera, VGA front camera with 30fps, LED flash, Geotagging feature on the photo and video
Audio: Frequency response 20Hz to 20,000 Hz
Audio Format: AAC (8 to 320 Kbps), Protected AAC (from iTunes Store), HE-AAC, MP3 (8 to 320 Kbps), MP3 VBR, Audible (formats 2, 3, 4, Audible EnhancedAudio, AAX, and AAX +), Apple Lossless, AIFF, and WAV TV
Video: Video Format H.264 video up to 960p / 40 frames per second / Main Profile level 3.1 with AAC-LC audio up to 160 Kbps, 48kHz / stereo audio in. M4v,. Mp4, and. Mov file formats / MPEG- 4video, up to 2.5 Mbps, 640 by 480 pixels, 30 frames per second, Simple Profile with AAC-LC audio up to 160 Kbps per channel, 48kHz, stereo audio in. m4v,. mp4, and. mov file formats; Motion JPEG (M-JPEG) up to 35 Mbps, 1280 by 720 pixels, 30frames per second, audio in ulaw, PCM stereo audio in. avi file format
Supports resolution of 1724 × 1268 pixels, with a dock connector to VGA for 976p and 680p.
Cellular and Wireless: UMTS / HSDPA / HSUPA (850, 900, 1900, 2100 MHz) / GSM / EDGE (850, 900, 1800, 1900 MHz) / 802.11b/g/n Wi-Fi (802.11n 2.4GHz) / Bluetooth 2.1 + EDR wireless technology
Location Features: are taking an A-GPS / digital compass / Wi-Fi
Batteries and Power: The batteries will be used are taking lithium-ion batteries that can be in charge
Power USB via PC / Mac
Talk time over 10 hours (3G), up to 20 hours (2G)
Standby time may be increased to 400 hours.
Maybe in Internet usage will be increased to 8 hours (3G), up to 15 hours (WiFi)
Video recording: up to 15 hours
Audio Recordings: Maybe length of the audio will be increased to 50 Hours + +
Features and IOS FaceTime 5: FaceTime is a masterpiece created by harmonizing the work of software and hardware iPhone d.
The use of the iPhone features d with iOSd as operating systems fairly easily. With a touch or by voice, an d the iPhone user can perform Video-Call with a friend or family member d. fellow iPhone users.
Game More Sophisticated: IOS d may use more features of the application Game Center, an innovation for social networking game for the iPhone dikhusukan d And iPod Touch.
This application enables an iPhone user for playing with other users within the same cell (Multi-player platform). Thus fellow iPhone users 5 or iPod Touch can work together to complete a game, or compete with each other.
Multitasking: With IOS d as the iPhone operating system d, fiturmulti-taksing presented appear moreslick. 5 iPhone users seem to be able to access different applications at the same time and switch from one application to another without significantobstacles.
The container of the world's largest application: iPhone d probably will hold approximately 350 000 applications that can be grouped in various categories. OS 5 is a platform that can accommodate the largest collection of mobile phone applications.
Apple provides an opportunity for companies aplikasidan program developers to create and make a variety of applications that can be used by the iPhone d.
Performance and stability of the IOS operating system 5 which may be used are the same class operating system operating systems for desktop PC(Personal Computer) which has been redesigned for the needs of the smartphone. Because using a sophisticated computer operating system - Mac OS X - the performance of IOS five fairly fast and stable. IOS 5tampaknya will consume and distribute power efficiently to maintain energy levels stored in the battery. In terms of multi-tasking, d IOS can operate more applications at thesame time - IOS 5 does not work in slow despite many applications to operate simultaneously, and probably will again in a more efficient use of energy from the battery.
Hardware and software are made to complement each other: Apple produce their own software and hardware iPhone 5 and all previous series. It seems that eventually the iPhone will generate five synchronization performance of a fuller and more modern. A good integration between software and hardware enables the software from the iPhone appear the most of the hardware features such as Retina Display, Multi-Touch interface, accelerometer, three-axis gyro, GPS, graphics, and more.
FaceTime is a perfect example of harmony betweensoftware and hardware iPhone 5. This feature will more efficiently utilize the camera, the display, one of the microphones, and the Wi-Fi connection.
Having reliable security features: Unlike the previous iPhone security feature vulnerable as site access, IOS 5 which is used by the iPhone 5 somewhat more secure from external interference. Defense system that are offered by IOS 5 may be designed in such a way that all iPhone applications5 worked in a secure environment maintained - free of intervention sites or other applications that try to access the data diiPhone users.
IOS 5 supports encrypted communication network whichaims to protect all information stored in an iPhone 5. Moreover, the operating system "Parental Control" or parental guidance allows users to lock down access to the materials that are provocative. For security, iPhones are built with the feature code entry if you want to access the phone, and allows removal otomatisapabila data entry errors inthe entry code exceeds a specified limit. Moreover, if the iPhone 4 a user is lost or stolen, the user can ask the operator to search for it by using the"tracker" is mounted inside the unit.
Professional and business purposes: Many companies in the world have chosen iPhone as the main mobile phone business because of the features offered by this series. IOS 5 may akanmeningkatkan working with Microsoft Exchange and many servers for sending email, calendar and contacts. IOS protect user data by translating the data in three different areas, in the transmission, in units 5itu own iPhone and backup data is stored in iTunes. Later maybe five iPhone users can easily access the company's personal network or communications profession through industry standard VPN protocols with the speed and features more complete. Various problems andbsinis profession may be able to more easily and more quickly shipped the iPhone from one company to another to set up the profile.
Almost like the previous iPhone, Iphone 5 apart accessible to all people: IOS 6 was made with the various features that facilitate its use. Voice recognition as an example allows a user to find files, data, or the contacts he needed.
Universal Language 5 iPhone and IOS are universally developed for use in every part of the world. User interface features applied in more than 40bahasa, and a user can easily switch from one language to another.
Apparently the keyboard is used by the iPhone 5 based on a software, a user can select more than 50 keyboard with different characters such as alphabet, kanji Chinese and Japanese kanji. To add to the quality of the translation of languages, the dictionary which is owned by the iPhone 5 will be available in more than 50 different languages and dialects.
Voice-Over-read screens in 45 languages, and Voice-Control understands 35 languages. Terjemahannyapun quality seems to be more improved, may exceed the Google translation.
For other articles on this blog, please read about
Nokia X9
.... thanks a lot.