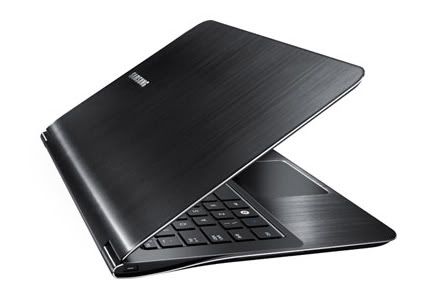 Samsung launched its latest notebook. Notebook-named
Samsung Series 9
that has the advantage ofa thin, lightweight, strong and stylish. This notebook has a shell made of duralumin. Suchmaterials commonly used in aircraft bodies. This material has the characteristics of light, but two times stronger than aluminum.
The Excess of Samsung Series 9
The notebook has a 16.33 mm thick and has a size of 13 inches, and weight of 1.31 kg and is designed with no corner of the phones to be thin so that when combined, appear dynamic and elegant impression. Another advantage the
Samsung Series 9
is on the screen. By using features of Super Bright light First with 400 units to create the look of this notebook to be two times more brightly, accompanied by a variety of color reproduction (16million colors) and a super contrast ratio (1,300: 1).
And also, there are also features
Auto Display
brightness automatically adjusts the light with the light around and supported
Microsoft Windows 7
and the Intel Core i5/i7 second generation with 8 GB memory.
Especially with the Intel Turbo Boost Technology to provide energy, speed and energy savings.
Fast Start features Instant On making the process of booting the
Samsung Series 9
is 60% faster than notebook hard disk drives. Battery Samsung also sparingly because of the Power Plus.
To support or recording conversations, there are 1.3 M HD webcam.
Spec of Samsung Series 9 :
*. CPU: Intel Core i5 Second Generation Processor 2537M (1:40 GHz, 3MB; turbo up to 2.3 GHz)
*. Operating System: Genuine Windows 7 Home Premium (64 bit) / Windows 7 Professional (64 bit)
*. Memory: 8GB DDR3
*. Storage (max): 128GB Solid State Drive (SSD)
*. Screen: 13.3-inch HD LED-backlit display SuperBright Plus (400 nit)
*. Resolution: 1366 × 768
*. Graphics: Intel Integrated Graphics HD GT2
*. Speakers: 3 watts (1.5W x 2) and1.5-watt stereo speakers sub-woofer
*. Battery: Lithium Polymer; up to 6.5 hours
*. Wireless: 802.11b/g/n; WiMaxi
*. Weight: 2.89 lbs
*. Samsung Series 9: U.S. $ 1.640
For other articles on this blog, please read about
Mio Moov 200
.... thanks a lot.