Samsung Galaxy Tab 10.1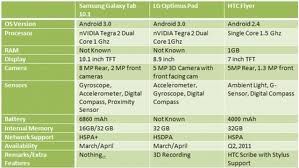 With Android operating system 3.0 "Honeycomb" and Nvidia Tegra 2 dual-core processors, making the gadget is believed to be the fastest Tablet PC gadget currently in its class. Backed with super wide-screen 10.1-inch 1280 X 720 resolution, 2 Megapixel camera, and other advanced features offered
Honeycomb Android 3.0,
make the gadget Tablets is believed to be competing in Tablet PC market this year 2011.
LG also showed off the tablet PC first product ,
LG G-Slate.
Overall, LG G-Slate has the same features as the Samsung Galaxy Tab 10.1, but has a smaller screen, ie 8, 9 inch.
Excess LG G-Slate tablet is the ability to record and play 3D content. In addition, LG G-Slate can connect to the monitor screen or regular TV to produce a larger view.
HTC does not want to miss the first tablet product showcase,
HTC Flyer.
Although only using the Android OS 2.3"Gingerbread", but this OS has been in customated by HTC so that Android has a view that is super "WAH".
Additional :
Interestingly, all three major manufacturers of products using the gadget world
Android OS.
Is this a sign of Android begun to pick up and dominate markets Tablet PC Operating System Gadget 2011?
For other articles on this blog, please read about
Android Browser Faster Than iPhone
.... thanks a lot.