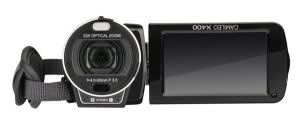 Toshiba Camileo x400 and Toshiba x200 are now available in the US, for $299 and $279, respectively. Toshiba will also be offering up a higher-end, Toshiba Camelio x416 on October 10th for $319.
All three camcorders of Toshiba
is shoot 1080p video and feature a similar barrel-shaped design with a three-inch swiveling touchscreen LCD. Toshiba x416 and
Toshiba x400 feature similar specs,
with 23x optical zoom, 120x digital zoom, on-screen video trimming and expandable memory.
Source:
Toshiba Direct