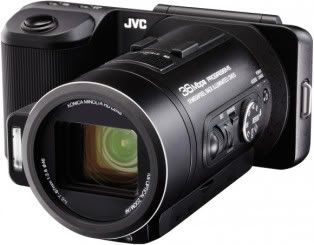 JVC's GX-PX1
hybrid camera/camcorder has found itself a US release date and price as the
JVC GC-PX10
, in October for a hefty $899.95. The feature
JVC GC-PX10
Capable of shooting both 12-megapixel stills and Full HD 1920 x 1080/60p video at up to 36Mbps, as well as super-slow-motion 300fps footage and more, the
GC-PX10
is based around JVC's FALCONBRID processor, and can simultaneously capture 8.3-megapixel photos and Full HD video.
More Megapixel Build
There's ISO6400 support in
JVC GC-PX10
and the ability to fire off 8.3-megapixel (3840 x 2160) stills images at a ridiculous 60 shots-per-second – up to a maximum of 130 shots total per burst – or 12-megapixel stills at 30 frames-per-second. Super-slow-motion video, meanwhile, can be recorded for two full hours, though only at VGA resolution.
Optical Image of JVC GC-PX10
Optical image stabilization is a 10x optical zoom and white balance, aperture and shutter controls for manual use round out the main specs, while there's a 3-inch posable touchscreen for control and SDXC/SDHC memory card support in
JVC GC-PX10
. An HDMI port and 32GB of internal storage are also present.