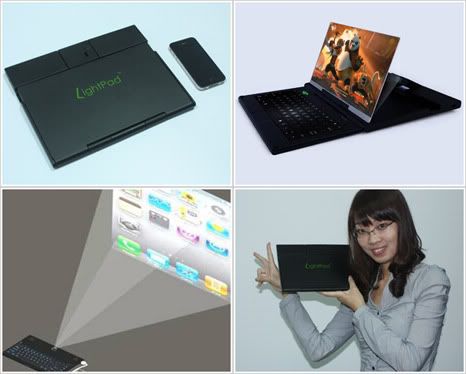 LightPad G1
is a device about the size of A4 paper that can turnyour phone into a notebook. QP LightPad utilizing technology Pico Projector in transferring the image onto a screen measuring 11 inches by putting the projector in the back.
By using the
LightPad G1
that utilizes pico a media viewer will display the necessary consumption is very low, so that makes it possible for energy-efficient. Eg: to display 500 nits requires only 2.5 watts of power below. In addition, thin form factor and light weight provides comfort in use. With this device, the
LightPad G1
image display can be projected onto the wall and produce images equivalent to a TV 60".
LightPad G1
also is mounted Qwerty keyboard so it does not rely solely on cell phones qwerty. In addition, LightPad G1 also supports to all mobile smartphones such as IOS, Android, WinMo, or BlackBerry using HDMI/HML connection. LightPad G1 is with 854x480 resolution and for the next generation of
LightPad G2
has a resolution of 1280x720 HD.
Specifications LightPad G1
Brightness in Rear Projection mode, 11" with 540 nits 2.5W
Rear Projection Screen gain with 3.5
Brightness in Front Projection mode with 18lm
Resolustion 854x480
Interface HDMI/MHL
Mechanical dimensions 257x207.5x12.0mm
Weight 400g
Color Gamut 100% on NTSC
Suppor smartphone with HDMI/MHL output
Thank've been reading LightPad G1 Change Mobile Phone to Notebook and permalink this article is http://digital-electronic-info.blogspot.com/2012/01/lightpad-g1-change-mobile-phone-to.html
I hope the article LightPad G1 Change Mobile Phone to Notebook beneficial for you.
SHARE THIS POST: