The
USB-powered CMC Channel Controller
is the hardware equivalent of the eminently powerful
Cubase channel
section.
16 illuminated rubber buttons, one green-lit rotary encoder and a groundbreaking touch fader give you hands-on control over the major channel-related functions in
Cubase
, including record arm, solo/mute, pan and volume.
Due to the adoption of Cubase's icons and color scheme, users will instantly feel at home with this lightweight and compact yet incredibly effective control unit.
Specifically built for its much loved
Cubase and Nuendo programs
, each of the six units has its own speciality, and has been designed to let you get your tactile funk on, be it mixing melodies or mashing in beats. Plonk up to nine of these sleek, luminous lovelies on your desk for the music control surface of your dreams, but with no mention of price just yet, you might want to keep the plastic wrapped up until they hit the stores in October.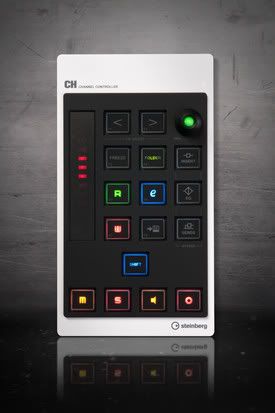 CMC Hardware Support :
Mac
Mac OS X 10.5.8, 10.6.4, 10.7 (32-bit/64-bit kernel)
Intel processor (Intel Core Duo or faster recommended)
1 GB RAM
CD-ROM drive
USB component port (1.1/2.0)
Windows
Windows XP SP3, Vista SP2 (32-bit/64-bit), Windows
Vista SP2 (32-bit/64-bit), Windows 7 (32-bit/64-bit)
Pentium / Athlon 2 GHz or faster (dual core processor recommended)
1 GB RAM (2 GB for Windows 7 64-bit)
CD-ROM drive USB component port (1.1/2.0)
CUBASE AI 6 Support :
Mac
Mac OS X 10.7, Native 32-bit and 64-bit version
Intel dual core CPU
2 GB RAM
Display resolution of 1280 x 800 recommended
CoreAudio compatible audio hardware
4 GB of free HD space DVD-ROM drive
Internet connection for license activation
Windows
Windows 7, native 32-bit and 64-bit versions
Intel or AMD dual core CPU
Windows compatible audio hardware (ASIO, WDM)
2 GB RAM
Display resolution of 1280 x 800 recommended
4 GB of free HD space DVD-ROM drive
Internet connection for license activation
DOWNLOADS CMC
CMC brochure (English/German)
- 437 kb
CMC brochure (French/Spanish/Italian)
- 448 kb
CMC compatibility chart
- 35 kb
Source:
Steinberg