Fujitsu-Toshiba an the Wimax-enabled Arrows Z ISW11F
and juiced by a 1.2GHz dual-core processor, sports a 4.3-inch 1280 x 720 LCD and, most notably, rocks a 13 megapixel CMOS sensor. It also features a 1.3 megapixel front-facing camera and supports 1080p video, along with your standard suite of 802.11 b/g/n WiFi and Bluetooth capabilities.
Fujitsu-Toshiba Arrows Z
is also waterproof.
Fujitsu-Toshiba Arrows Z
have an ability that can take 0.5 second to start, with a 13 megapixel camera for shooting high-speed mobile phone against water and dust to support seven different colors(vibgyor).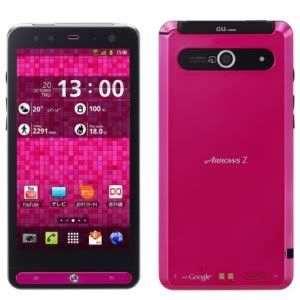 Highlights of Fujitsu-Toshiba Arrows Z
It have 4.3 inches 720pHD, full-color display with 16M colors, beautiful images provide high-quality next-generation technology.
It have dedicated one-touch switches and switch between screen brightness and Wi-Fi/WiMAX, Eco-mode features with better battery.
Wi-Fi (IEEE802.11b/g/n)
Touchscreen (multi touch)
GPS
WIN HIGH SPEED (5 Note)
Bluetooth ® (2.1 + EDR)
Motion sensor (shaft 6)
Infrared communication
microUSB
Waterproof
Specication of Fujitsu-Toshiba Arrows Z
Product Name: Arrows Z ISW11F
Platform: Android ™ 2.3.5
Body Color: Fine White/Blue Stream/Live Pink/Neo Black
Manufacturer: Toshiba Mobile Communications, Fujitsu
Display: 4.3 inch HD (1280 × 720)
Size: Approximately 64 (W) × one hundred twenty-eight(H) × 10.1 (D) mm
Camera: Image Stabilizer CMOS / AF / pixel to about 13.1 million effective pixels
Weight: Approximately 131g
External Memory: microUSB and microHDMI
Standby time / continuous call: Approximately 290 hours / 330 minutes