Nokia Siemens Networks
has launched three new
4G
devices* at PT Expo Comm in Beijing,China. That is :
Nokia Siemens Networks USB-lte 7210 offers mobile broadband to laptops and compatible tablets whilst on the move.
Nokia Siemens Networks CPEi-lte 7212 is a wireless router built for indoor use that provides fixed wireless connectivity to TD-LTE services via WiFi or Ethernet.
Nokia Siemens Networks CPEo-lte 7210 is a further wireless router built to withstand the weather and be mounted outdoors, can also provide broadband access.
The devices allow consumers to enjoy broadband access at up to 102 Mbps (Megabits per second) downlink and 51 Mbps uplink to support data-intensive services on
TD-LTE
(time division-duplex, long term evolution) networks. The devices address broadband access requirements that range from basic connectivity in under-served regions, to high-speed mobile broadband in dense metro areas.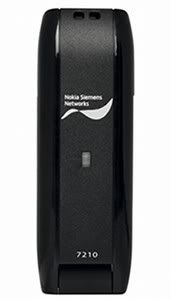 Source:
NokiaSiemensNetworks