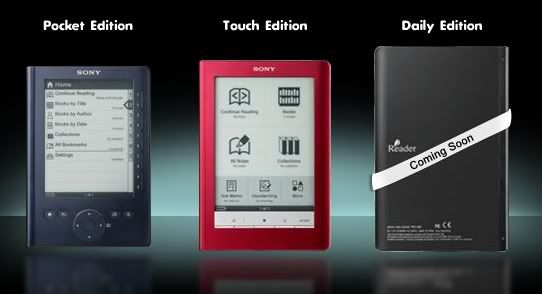 A few days ago the blog
Digital Electronic
Info provides information in the form of products of gadgets that can download or buy ebook online with just one touch. Besides
Kobo Reader
,
Petrigio Rader
and
Barnes andNoble Reader
now I share more info that needs to be
a reader gadget
and probably deserves to have, namely the Sony Reader.
Sony
issued a gadget a gadget reader that can be used to read books online.
Sony
give name to the reader as the
Sony Reader Daily Edition
.
With a scratch-resistant screen, the
Sony Reader Daily Edition
can be used for all people because of the ease in using this gadget. Especially with a 7 "which is quite comfortable and do not interfere with the eye when the user reads the book online via the
Sony Reader Daily Edition
. Moreover, this gadget is also available in App. Store provide various types of books that you can enjoy, buy or download you can do easily as the
Sony Reader Daily Edition
features already embedded Gobi. Ease of internet access, Wi-Fi and 3G networks more so, the user also feels comfortable on the appearance of any titles that are in the
Sony Reader Daily Editio
n, due to technology E Ink Pearl, make an appearance resembling the original paper ..
One more, the
Sony Reader Daily Edition
book capable of storing more than 50,000 books.
Main Specs Of Sony Reader Daily Edition
Display : Technology E ink Pearl, 16 level gray scale, 600 x 1024 p, 7"
Network : Moblie broadband 3G, Wi-Fi
Dimensions : 7.87 x 5.04 x 0.38 inches, 9.6 oz
Media Format Supports : Text (ePub, PDF, 8Be8 Book, Text, RFT), Image (JPEG, PNG, GIF, BMP), MP3, ACC
Memory : 2GB dual-memory card expansiaon Slots for Memory Stick Duo and SD card up to 32GB
System Requirements : Ms.Windows 7, XP, Vista and Mac OS X
Power : Bulit-in rechargeable battery: 3.7v DC, 10 days with wireless, 22 days with wireless off, rechargeing time 2.5 hours.
Don't miss to read more articles on this blog about news from
Monte Carlo