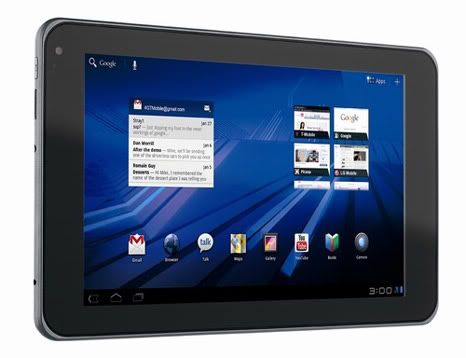 As my previous article about
Optimus Pad
, article writing today connect yesterday's affection.
G-Slate
is an
LG product
output with the ability to watch
HD Streaming
video and video chat or multitasking. With platform
OS Android 3.0
, G-Slate was able to display your favorite applications are usually accessed by many people, such as Gmail, YouTube, Google Maps. Especially with the touch screen is very sensitive, adding to the convenience of users of the LG gadgets.
A lot of comfort that will be felt by users of this
G-Slate
. With a 5 MP camera and
LED Flash
that is almost the same as the 3D camera makes a very nice camera shots and is capable of capturing different images if the images are in one object. This is because of
HD dual-facing
feature that tertanama in
LG G-Slate
. As well, the resulting video display G-Slate, with the help of the resolution 5 MP camera, this gadget is capable of recording video with 1080p capability. The results are recorded on the video G-Slate can also be displayed on the home teather because of the HDMI port.
LG G-Slate
is equipped with multi-touch screen 8.9", NVIDIA Tegra 2 dual-core processor and the ability to browse and download a nice.
Main Specs Of LG G-Slate
Paltform : Android 3.0
Processor : NVIDIA Tegra 2 T250, 1GHz Dual-Core
Network :
- GSM 850/1800/1900 MHz, 900/700/2100 MHz (3band)
Data Transmition : HSPA+
Dimensions : 9.56" (H) x 5.88" (W) 0.49" (D), 22.9 oz
Display : 1607K Color TFT, 1280 x 768 p
Internal Memory : 32GB ROM, 1GB RAM
Standart Batt : 6.400 mAh
Standby : up to 700 hours
Charging Port : Micro USB
Don't miss to read more articles on this blog about
Sonic Pouch SPX 200