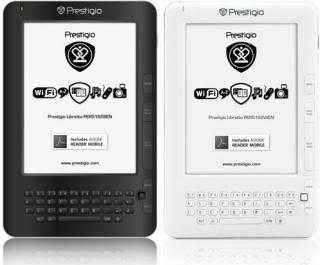 Complete! That's what I say when I discovered that there are features in
Pretigio Libretto PER5162B
. Yes, the one featuring the innovative gadgets that are different from other gadgets, especially 'read' the file. The gadget with a screen 6 inches and supports the form of text, image and audio formats also have included a built-in
Wi-Fi
and preinstall
Adobe Reader Mobile
, so users
Pretigio Libretto PER5162
can download books directly from the Internet.
Ebook reader
, also includes an FM tuner and the dictionary that comes with a Qwerty keyboard. The quality sound, built-in stereo has been installed in
Pretigio Libretto PER5162B
. With 2GB of internal memory and micro SD cards of 32 GB allows users Pretigio Libretto PER5162B more freely store their important data.
As an ebook reader,
Pretigio Libretto PER5162B
able to open up 15,000 pages in a single charge and ebook reader is also equipped with a function
G sensor
.
The Foolowing Specs of Pretigio Libretto PER5162B :
Features
*. With WIFI for wirless eBook shopping
*. Built-in microphone and stereo speakers
*. Single battery charge lasts for up to 15,000 pages
*. QWERTY Keyboard
*. Extra slim design: 10.3mm only
*. 2GB memory built-in
*. With G-sensor
Specification top
Model :
PER5162B/W
Color :
Black
Interfaces :
WIFI 802.11b/g
Micro USB :
Universal Serial Bus (USB) 2.0
Media Formats :
WMA, WAV, RAR, ZIP, PPT, OGG, JPG, TIFF, PNG, GIF, BMP, XLS, DOC, TXT, MOBI, CHM, FB2, RTF, HTM, DJV, DJVU, PDB, HTML, PDF & EPUB.
Display :
Integrated Gray Scale 6'' (800x600), 16-level E-link
Memory :
Internal 2 GB RAM Storage, 128 MB Memory Card Type (Supported 32 GB Micro SD/Micro SDHC Card)
CPU :
Samsung S3C24 16, Clock Rate 400 MHz
Built-in :
Devices FM Tuner, Wi-Fi, Adapter
Included :
Accessories, Charging, Receiver Earphone, 2 Gb Micro SD Flash Card, Quick Start Guide, Leather Cover
Software :
Mobile Operating System, Linux Applications
Installed :
Clock, Calender, Notes
Battery :
Battery Technology Lithium Polymer
Current Capacity :
1300 mAh
Dimension :
192 x 125 x 10.3 (mm)
Weight :
0.3 kg
Warranty :
Warranty products returnable, Warranty 24 month, Warranty validation.
For other articles on this blog, please read about
LG Optimus Entered In Guinness
.... thanks a lot.
Source : Pretigio Libretto