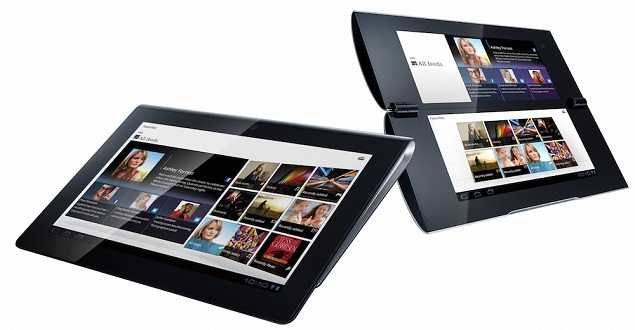 With different shapes and are both using the
OS Android 3.0
or
Honeycomb
, the latest release of Sony's product is indeed worthy of the call today's sophisticated telecommunications equipment.
There has been no official word on when Sony spreads its new product, but about the capabilities, Sony's products S1 and S2 are Certified PlayStation that allows gamers to play their favorite game, while also Wi-Fi and 3G/4G networks.
Sony S1
, with a form that can be folded like a magazine with screen 9.4'', this product has adopted a dual-camera, front and rear. Sony S1 also pinned Tegra 2 with touch panel UI Quick and Smooth and Swift web browser. In addition,
Sony S1
can work as a remote control for Sony devices.
Specs of Sony S1 :
* 9.4 inch display.
* NVIDIA Tegra 2 dual-core processor.
* Infrared port lets you use the tablet as a remote control for Sony media devices.
* Front and rear cameras.
* DLNA support for streaming media from the tablets to other devices on your home network.
* Off-center, wedge-style design of the which Sony says makes the S1 Easier to hold.
Price :
- Sony Tablet S1 : $ 599
While the
Sony S2
, has two screens with dimensions of 5.5'', 1024x480. One of Sony's screen 2 can be used as a keyboard.
Specs of Sony S2 :
* Two 5.5'' screens some of the which cans used together as one screen, or to display separate apps or wich one screen can used as keybord.
* Each screen has a resolution of 1024 x 480 pixels.
* Folds up into a cylinder for easy storage.
* NVidia Tegra 2 dual-core processor.
Price :
- Sony Tablet S2 : $ 699
For other articles on this blog, please read about
Asus ROG G73SW
.... thanks a lot.