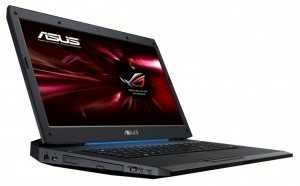 The outer shape of this Asus notebook is very fantastic, frightening with all black color. Design on the
Asus RoG G73SW
adopted stealth aircraft F1 17.
In accordance with the looks, Asus G73SW components and performance of this work should be an option for you everyday at work or play your favorite games.
Especially gamers, deserve to have a notebook on this one because components such as quad-core processor, graphics card GeForce GTX 460M, up to 8GB of DDR3 main memory already teremat in this notebook
Asus
product.
In addition, the Blu-ray Combo and web cam with a resolution of 2 million pixels and a 500GB hybrid hard disk coupled with a 500GB SSD, it is reasonable if the ability of Asus notebook is quite high perfomance.
By using the
Asus ROG G73SW
notebook, we can also see 3D programs only from the notebook. Yes, a package of 3D Vision with Nvidia's 3D glasses are included in the sales package. With the 3D view and Full HD display capable of running till 120Hz makes users more comfortable to linger with a notebook Asus RoG G73SW.
Moreover, the presence of a subwoofer in this audio Asus notebook equipped with Altec Lansing and Creative Audigy HD increasingly makes this notebook is perfect
Specs Asus RoG G73SW :
- Type : G53SW with 15,6'' dan G73SW with 17,3'' Gaming Series.
- Intel Core i7-2630QM, 2.0-2.8GHZ, (45NM, 6MB L3 cache)
- Intel HM55 Express Chipset
- 16GB DDR3 1333MHz
- nVIDIA GeForce GTX 460M 1536MB DDR5 Video Memory
- 17.3″ FHD 16:9 "Glare Type" Super Clear Ultra Bright LED Glossy Screen (1920×1080)
- dual 1,000GB (1TB) HDD / dual 256GB SSD
- dual 256GB SSD for Webcamera
- Combo Dual Layer SuperMulti 8X DVDRW Drive w/ Software 4X Blu-Ray Reader / 8X DVDRW/CDRW Super Multi Combo Drive or 6X Blu-Ray Writer/Reader + 8X DVDRW/CDRW Super Multi Combo Drive
- Built-in speaker and microphone, Subwoofer, EAX Advanced HD 5.0, and THX TruStudio
- Integrated 802.11 b/g/n, Optional Intel Centrino Advance-N 6200 – 802.11A/B/G/N, and Wireless LANModule
- Bluetooth V2.1 + EDR
- 3 x USB 2.0 ports, 1 x USB 3.0 port, 2 x Audio jack: 1 Head phone / 1 Mic-in, 1 x LAN RJ-45, and, 1 x HDMI
- 8-in-1 Card Reader (MMC/SD/Mini-SD/XD/Memory Stick/MS Pro/MS Duo/MS Pro Duo)
- Kensington lock hole
- 8 Cell Lithium-Ion, 5200 mAh
- Windows 7 : Home Premium 32/64-Bit, Professional 32/64-Bit, Ultimate 32/64-Bit
For other articles on this blog, please read about
Toshiba Dynabook Qosmio
.... thanks a lot.
(Digital Electronic Info)