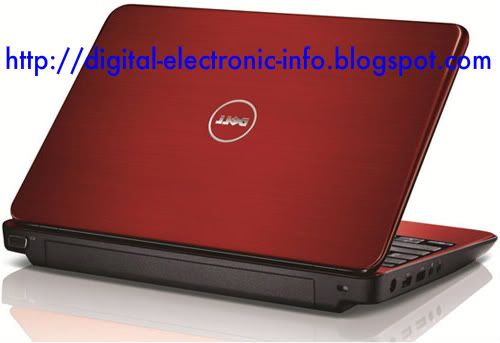 Able to Defeat Sophisticated Which Netbook Atom
With a glossy red color display and the Dell logo onthe back of the screen provides a simple impression of artificial AMD netbook this. When the screen in the open, visible power button on the left end up and with enough distance teombol key on the keyboard to add comfort in doing the typing. At the bottom or base is made of black plastic material so that the overall weight make netbooks
Dell Inspiron M102Z only 1.5 kg.
Like other netbooks, at about the Dell Inspiron M102Z installed three USB 2.0 ports, 1 HDMI port, 1 LAN port, card reader, power connector, audio jack,and microphone jacks. In this netbook is not installed eSATA and USB 3.0 port
Dell Inspiron M102Z (Brazos) For Mobile Platforms
Brazos
is for AMD's mobile platform consisting of two series, C-Serise (codename Ontario) and E-Series (codename Zacate). Both these series have a lower power level and using the core code that isintended AMD Bobcat to mobile platforms that support flexibility.
Core Bobcat has the APU and GPU (Fusion). Netbook
Dell Inspiron M102Z
APU
equipped with E-series models, namely E 350 which runs at a clockspeed 1.6 GHz Dual Core processor and 2GB of DDR3RAM memory and technically, processor speed M102Z Dell Inspiron with Intel Atom D510 ( the highest platform on Atom ) that runs at 1.66 GHz clock speed.
In addition, the platform has endurance batetai Brazos jikan compared with Intel Atom D510.
ATI GPU RODEON HD 6310
In addition to having high-performance processors, the
Dell Inspiron M102Z
also have ATI GPU RODEON HD 6310 is superior when compared with Intel Atom grafisn D510 still using the onboard Intel GMA 3150. Rodeon ATI HD 6310 running at 500MHz with the memory clocked at 1 GHz are taken from the RAM memory. Even so the processor does not share the same cache memory capacity of RAM that is, so the GPU memory is takenfrom the RAM is still running without any division of the processor.
Brazos platform equipped with APU are already fully supports DireX11, DirectCompute, and OpenCL and support UVD3 feature so it can run HD video up to 1080p. The resulting image on the screen DellInspiron M102Z able to be displayed at WLED 11.6 inch HD screen with a resolution of 1366 x 768 pixels.
However, with capabilities that can beat any other netbook, the
Dell Inspiron M102Z
still quite lacking in terms of comfort while watching the movie because the screen netbook is relatively small.
Dell Inspiron M102z Laptop Specifications
11.6-inch LED backlight display with resolution of1366×768 pixel
Powered by 1.6GHz AMD E-350 dual-core
processor with the AMD Radeon HD 6310
Or a 1Ghz AMD C-50 single-core processor with the AMD Radeon HD 6250
Runs on Genuine Windows 7 Home Premium 64-Bit OS
802.11b/g/n WiFi, Bluetooth 3.0 & Integrated 10/100 LAN (RJ45) connectivity
Support high-definition 1080p video playback
Embedded UVD decoder
An AMD Fusion APU technology
Supports 2GB or 4GB of DDR3 memory
Up to 500GB of hard disk drive
A standard 6-cell battery
Built-in 1.3 megapixel web camera
External DVD+/RW (optional) optical disk drive
SRS premium Surround sound standard
2 X 1.5W speakers & Audio jacks
Combo PowerShare / USB 2.0
2 USB 2.0, & HDMI
15-pin VGA video connector
Expansion Slots
7-in-1 Media Card Reader
For other articles on this blog, please read about
steelseries diablo3 headset and mouse
and
Nokia X9
.... thanks a lot.