Vinci Tab
is a tablet computer intended for the baby that is still under the age of 4 years.
Vinci tablet
comes with a design tailored to the children and wrapped with a non-toxic materials.
It has dimensions of 7 inches and has a handle making it easy by toddlers.
Vinci
claimed to be the tool that allows learning to be more interactive and he will be crammed with content that smelled supporting education. With a tablet suitable for children under the age of4 years, the manufacturers are also likely to allow children to play games that have been selected, read books and enjoy the music videos.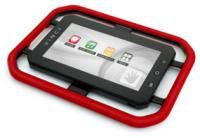 This tool not a toy, he is the Android-based device that uses the Cortex A8 processor, a storage capacity of 4GB and a magnitude 3 MP camera.
Vinci tab
also equipped with a slot for MicroSD, a built-in speakers microphone. Weighing not much different from the iPad in which he weighs 580 grams, while the iPad weighs 603 grams. And do not worry the kids will be downloading or accessing something weird because he will not be equipped with Wi-Fi.
Vinci tablet
sold for USD 389 and was released in America on 10 August.
Main Specs Of Vinci Tab
Display of Vinci Tab
7-inch (diagonal) glossy widescreen
Multi-Touch display
800-by-480-pixel resolution
Processor : 1GHz Cortex A8
Memory : 512MB RAM
Camera : 3 Mega Pixels, back facing
Desktop Requirement of Vinci Tab
For VINCI Desktop Software
PC with USB 2.0 port
Windows 7; Windows Vista; or Windows XP Home or Professional with Service Pack 3 or later
Mac computer with USB 2.0 port
Mac OS X v10.5.8 or later
Video of Vinci Tab
H.264 video up to 720p, 30 frames per second, audio up to 160 Kbps per channel, 48kHz, stereo audio in .m4v and .mp4 file formats; MPEG-4 video,up to 2.5 Mbps, 640 by 480 pixels, 30 frames per second
Audio Playback of Vinci Tab
Frequency response: 20Hz to 20,000Hz
Audio formats supported: MP3 (16 to 320 Kbps), MP3 VBR, Audible (formats 2, 3, and 4), and WAV
User-configurable maximum volume limit
Environmental Requirements of Vinci Tab
Operating temperature: 32° to 95° F (0° to 35° C)
Nonoperating temperature: -4° to 113° F (-20° to 45° C)
Relative humidity: 5% to 95% noncondensing
Maximum operating altitude: 10,000 feet (3000 m)
Languages of Vinci Tab
English for now. Additional language support will be available at a later stage
Battery and Power of Vinci Tab
Built-in 24W-Hour (6400 mAH, 3.7V) rechargeable lithium-polymer battery
Up to 8 hours of playing games, watching video, or listening to music
Charging via power adapter
Size and Weight of Vinci Tab
Height: 7.25" (18.41 cm)
Width: 10" (25.40 cm)
Depth: 0.625" (1.58 cm)
Weight: 1.28 lb (580 g)
In the Box Vinci Tab
Micro USB to USB Cable
10W USB Power Adapter
Quick Guide